Before Beginning a Virtual Party
Make sure that you have created your party link before making any posts. The picture that goes along with this post should be your own. You can create one in Canva or take a pic of yourself with the products. SHOW A LITTLE PERSONALITY AND FUN! Whatever it is make sure it is your own and speaks to your personality.
Quick Setup Tip!
Go into the group settings and select sort posts to newest. This will keep your posts in order and make it easier for guests to navigate the online party.
Before inviting guests into the Virtual Party Group or Event, make sure to have posts in the group so as they join the group they are immediately beginning to learn about Jordan Essentials. The Day 1 posts are perfect for that. You will spend Day encouraging your hosts to invite her guests to the group.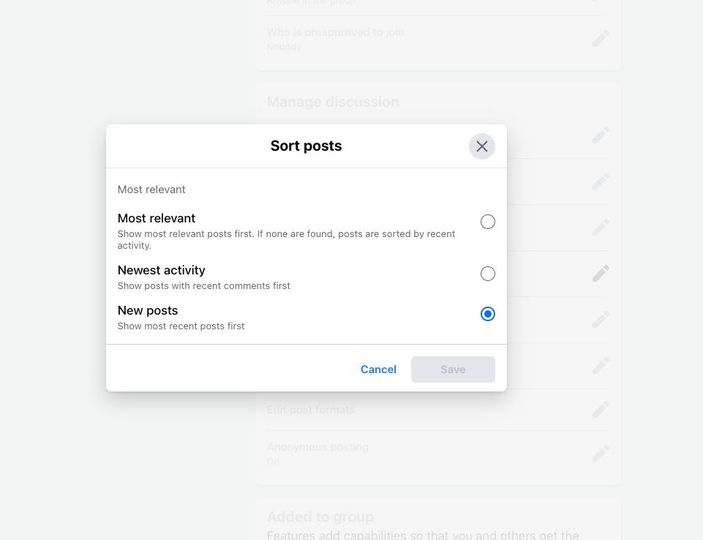 Day 1 Post 1
CREATE YOUR OWN IMAGE
Welcome to our Jordan Party with Sarah and Megan! You can shop anytime at the links below for each host. Whether you've known about Jordan Essentials for a long time or just heard of us, we have some amazing things to show you this week.
From natural, beneficial products for all your personal care needs from head to toe, to unique products that give you a natural alternative for pain relief, you won't want to miss a day this week! The party kicks off Thursday with a short Live Zoom Sunday at 1:30 pm.
LINK HOST 1
LINK HOST 2
Day 1 Post 2
Here is what you can expect this week. Fun, friends, and fabulous products. You can learn how to enjoy a fresh Jordan Essential experience that not only makes you feel better from the outside in but leaves you with healthy, glowing skin.
Welcome to the party!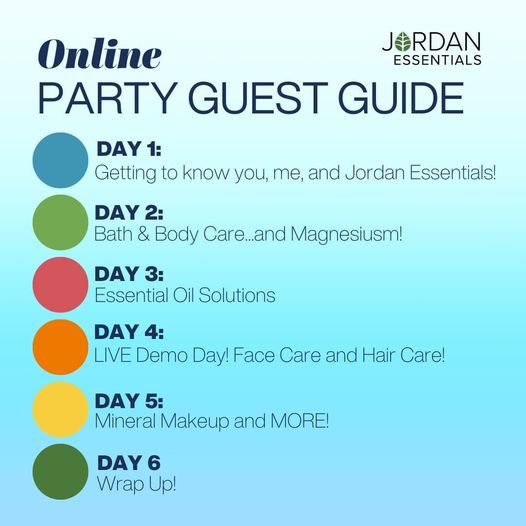 Day 1 Post 3
Let's get to know each other a little bit. How familiar are you with Jordan Essentials products? This will help me make this truly a personalized experience for you.
LIKE, LOVE, or WOW your response.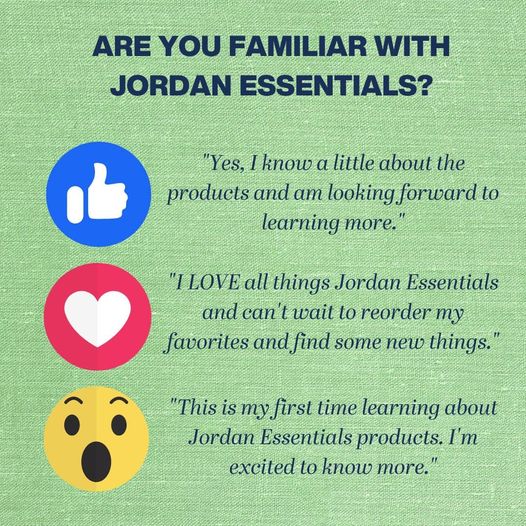 Day 1 Post 4
Nancy is an advocate and friend. She was a busy stay-at-home mom who started pioneering products in her kitchen to make money for her family when her children were little.
She oversees all of the formulas and is a friend to families nationwide for skin care and income solutions. She is busy today overlooking product formulas in the made-in-the-heartland manufacturing with essential ingredients you can trust.
She gives a customizable option that is flexible with your life to become a Jordie too and share the goodness of Jordan Essentials with others. Nancy helps make us unique!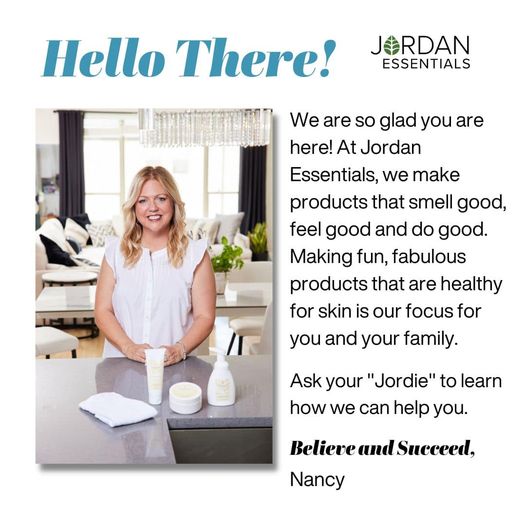 Day 1 Post 5
Jordan Essentials proudly chose the name from the Jordan River. As this holy river runs through a fertile valley to the Dead Sea, it gathers beneficial minerals from soil known to relieve, replenish, and refresh.
Inspired by these made miraculous healing powers, we knew our mission was to create products made with fresh skincare ingredients carefully selected and lovingly blended in fresh batches in the heartland of America.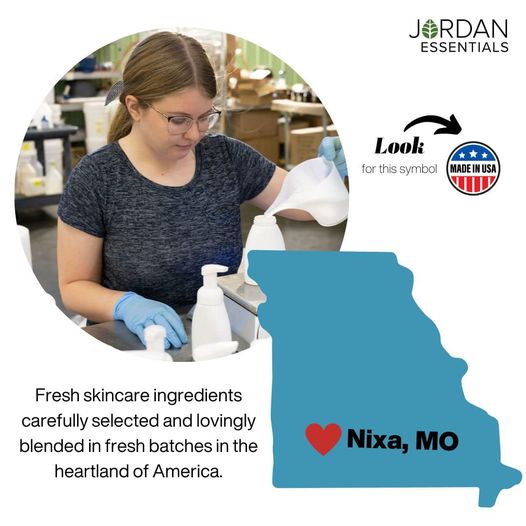 Day 1 Post 6
For over 20 years, we have been making products that feel great, smell great, and work great! They never contain potentially harmful ingredients, so you can feel confident they are safe for you and your family.
Each product undergoes strict quality control and never sits for long on a shelf. Once carefully selected ingredients like Magnesium, Shea Butter, Aloe, and Essential Oils arrive, they are blended into unique products, then lovingly packaged, placed in a box and shipped to your door. Now that is fresh!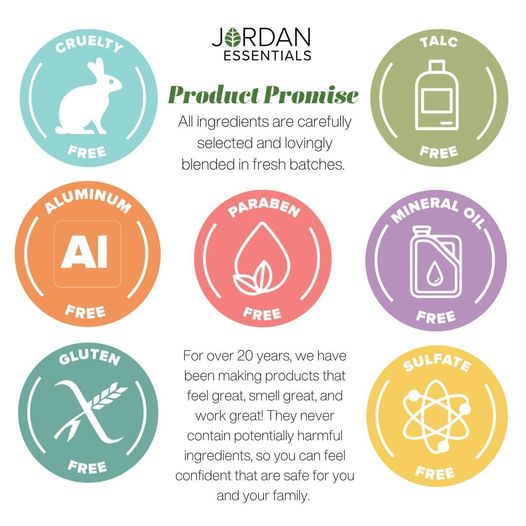 Day 1 Post 7
**********TRAINING FOR CONSULTANT****************
Introduce yourself. Going LIVE here is an option as well. If you choose to go live, it should only take 2-3 minutes. Remember to double-check your live party time. That happens on day 4 of our Virtual Party.
**********TRAINING FOR CONSULTANT****************
**********CUSTOMIZE CONTENT FOR THIS POST*************
Good morning! I thought I'd start our day by telling you a little bit about who I am. Here's who I am, why I'm here, and what JE means to me.
We're going to share some info with you this week about our most popular products but make sure to join us in LIVE this **Sunday at XXX pm CT** for our Live Party right here in the group to see how the products work, for shopping tips, hear about your host's top recommendations, answer questions and have some special offers.
Day 1 Post 8
Known as the Miracle Mineral, we all need it and yet we are almost always deficient. You will see this week why so many people call us the Magnesium company.
We infuse Magnesium Chloride into our products that go onto your skin and benefit your whole body.
More to come but check out this great info!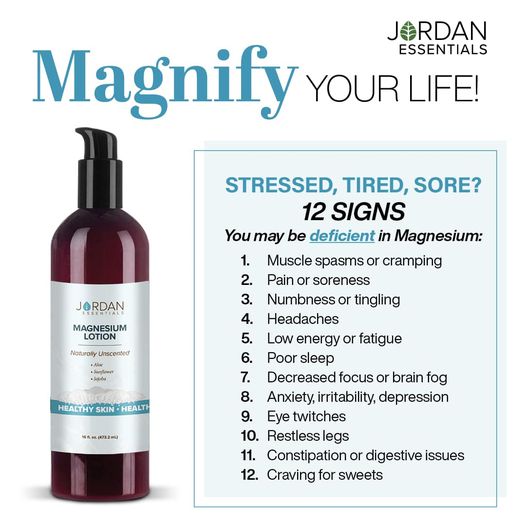 Day 1 Post 9
*************TRAINING FOR CONSULTANTS******************
We are using our FORM to make introductions and create engagement.
FORM
O = What Occupies your time?
R = Recreation. What do you do for fun?
M = Matters most or most meaningful last week.
*************TRAINING FOR CONSULTANTS******************
*************CONTENT FOR POST*******************
Get ready, let's get to know each other a bit before we get started. Answer 4 quick questions as we get to know each other!
1. Where are you FROM and What do you love about where you live?
2. What occupies your days?
3. What do you do for fun?
4. What is the most meaningful thing you did last week?
Post below to be entered into a drawing for our Under Eye Collagen Gel Packs! (Jordies choose the drawing)