Day 2 Post 1
PARTY OFFICIALLY KICKS OFF!
Before we get started, take a moment to change your settings as pictured below and comment with your answer to our trivia question when you're done! All answers will be entered to win our Early Bird Prize drawing on Saturday.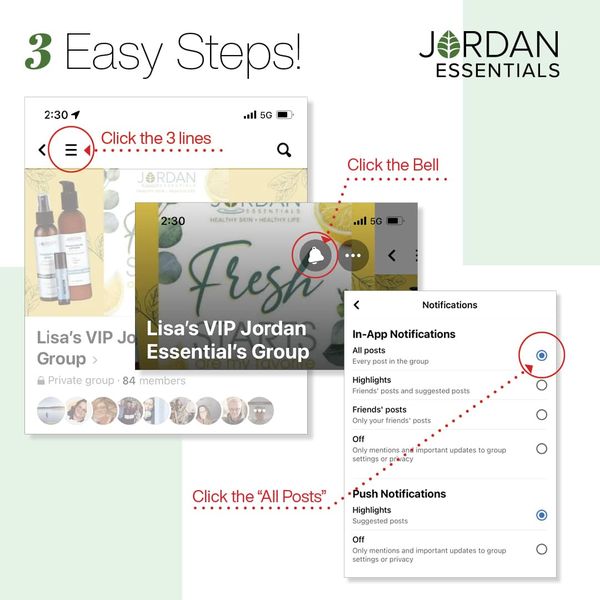 Day 2 Post 2
What is your signature scent style? Is it sweet and floral or tart and citrus?
Or maybe you just love them all? LIKE, LOVE, or WOW.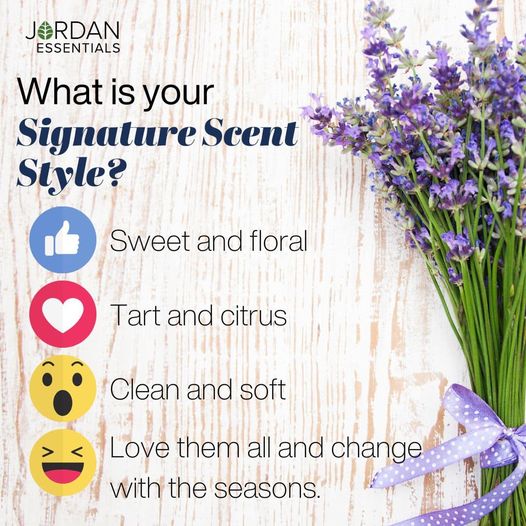 Day 2 Post 3
Do you need EXTRA Moisture or do you need Moisture with muscle relief or maybe you want BOTH?!
Let's kick off with our MOST popular collections! So popular they are called the Essential Collection.
Cleanse with plant-based hand soap infused with moisturizing Aloe. Remove dead skin cells by adding a dollop of our invigorating Salt Scrub infused with Dead Sea Salts.
Finish with our best-selling deep moisturizing Shea Body Butter or our hydrating Magnesium Hand & Body Lotion.
Our Essential Sets are available in all of our Signature Scents including our seasonal scent Coconut Lime!
(this statement should be tailored to you.)
I keep Oatmeal Milk & Honey in my guest bath and the Hope at my kitchen sink because I like the crisp, bright lemon scent."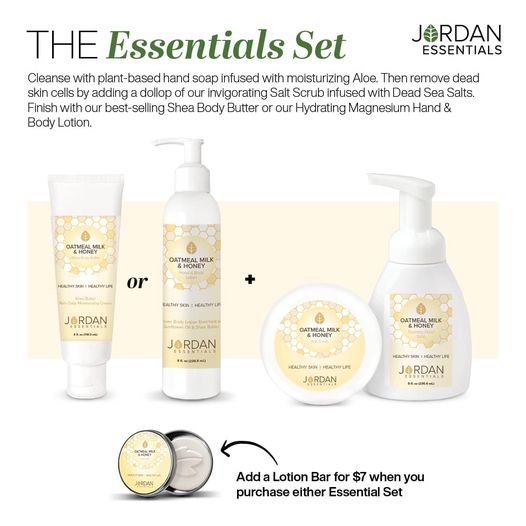 Day 2 Post 4
It all started with the Lotion Bar!
A solid waterless bar of lotion created and perfected by our Founder, a busy mom of three. Hand poured in the heartland of America, this buttery smooth multi-use bar is boosted with elemental Magnesium Chloride and works wonders on dry skin, elbows, feet – the whole body.
Outstanding relief for frequently washed hands and the moisture lasts between washings.
Simply place the bar in your hands to warm and release the organic plant-based oils, then apply with an easy glide for instantly softer skin.
Add a Lotion Bar for $7 when you purchase an Essential Set.
(this should be your personal testimony)
I keep one lotion bar on my nightstand to rub down my elbows and heels before hopping into bed. I wake up with smooth, soft skin in the morning. It's a great thing to add to your nighttime routine.
How would you use the lotion bar?"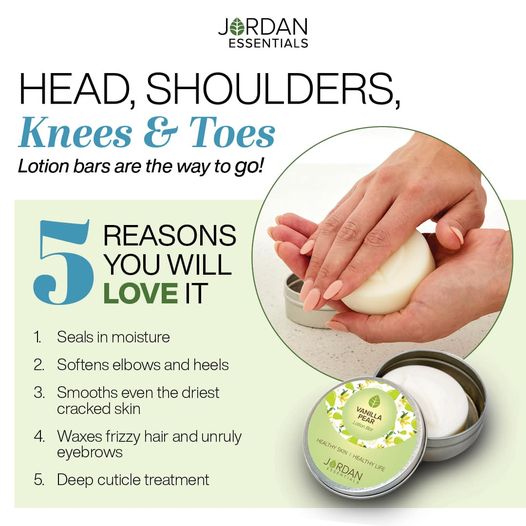 Day 2 Post 5
Maybe you want the FULL experience of Jordan Essentials?
The Essential Ultimate collection gives you both the deep moisturizing Shea Body Butter AND the Magnesium Hand & Body Lotion, a Lotion Bar, PLUS a Shower Gel and Deodorant in your favorite signature scent.
Shower Gel is enhanced with Hyaluronic Acid which promotes hydration keeping skin soft, plump, and youthful.
Deodorant is plant-based soothing formula made with Aloe and a Phyto-Nutrient blend perfect for sensitive skin. FREE from Baking Soda, Aluminum, Parabens, and Phthalates.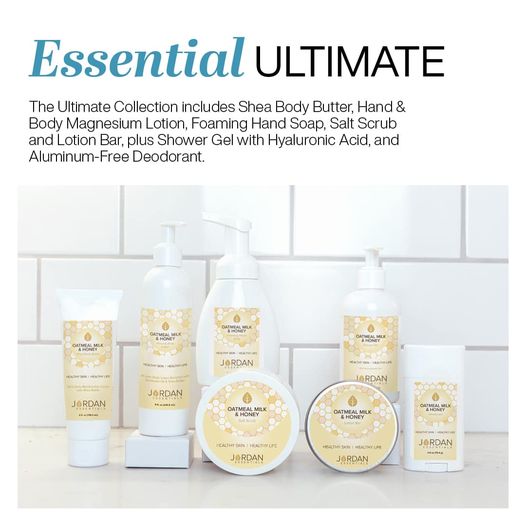 Day 2 Post 6
As you decide which Essential Collection is right for you, think about which Signature Scent you will choose.
We offer amazing scents made with the highest quality ingredients without toxins. Your health is important, so you'll never find harmful Parabens or Phthalates in our products. Choose from our Daily Essential products to customize your body care routine.
(this statement should be personalized to you.)
My favorite scent lately is the Coconut Lime. It is summertime on your skin! Creamy coconut with tart lime…bring on the sunshine!
Post a GIF related to the scent that you think you'd like most below and we'll see if we can guess which one you chose!"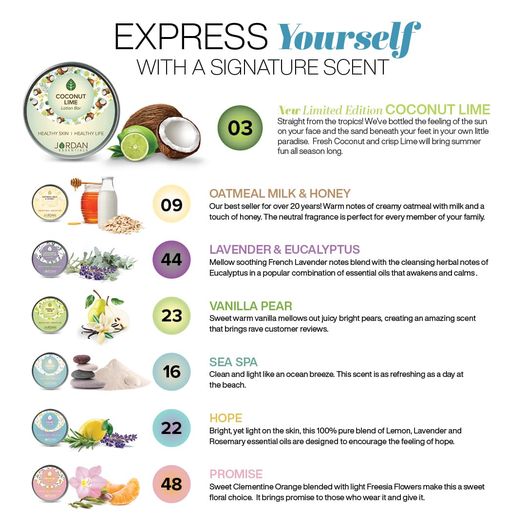 Day 2 Post 7
How would you feel if you had a 20-minute spa experience every day? YOU CAN! Turn your daily shower into a revitalizing, relaxing, skin-nourishing experience with the Shower Gel and Salt Scrub.
Start with a silky, salt scrub exfoliant to remove dead skin and reveal younger, healthier-looking skin. Use before shaving your legs for a better shave.
Bath your skin with a Shower Gel featuring Aloe and Hyaluronic Acid. Gently cleans and promotes hydration keeping skin soft, plump, and youthful.
For an extra bonus, add the a daloop of Salt Scrub to the Shower Gel. You will love how your skin feels!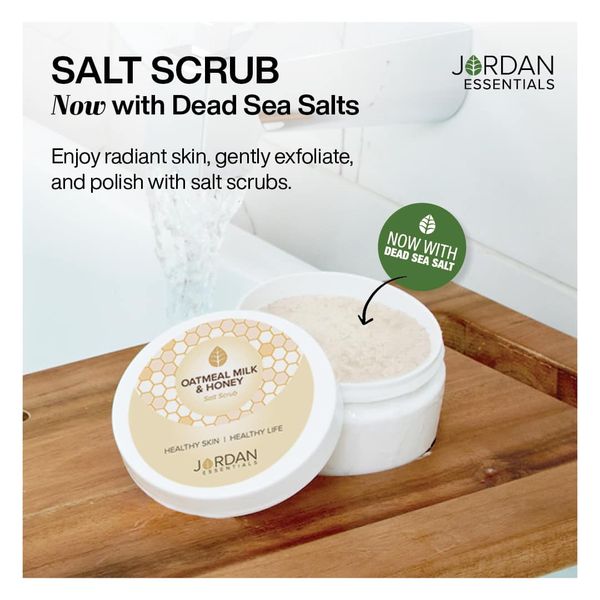 Day 2 Post 8
Do you want extra moisture or hydrating muscle relief? It's up to you.
Our Shea Body Butters have a thicker consistency good for extra dry skin.
We've already talked about how common Magnesium deficiency is, now your daily after-shower routine can include magnesium in our Hand & Body Lotion in any scent you prefer. Our Lotions contain 150 mg of magnesium per tsp.