Step 1 Get Ready To Party
Hey there everyone!! Are you ready to kick off our Virtual Party Training? It's going to be fun.
The easiest way to follow along is by joining on of our Follow The Leader Virtual Party Training Groups.
Some posts will include training content as well as content you should post so please read carefully. This party will include several LIVES. Live will increase engagement and allow your guests to get to know you.
Before starting your party, here are three things you need to do.
Day 1: Setup Day and Host Coaching
– Create the Party Group
– Invite your Host to be an admin of the group.
– Create your Party Link
Step 2 – Host Coaching and Engagement
Coaching and communication with your host is KEY to a successful party. She is your partner and ambassador of the event. Your excitement and enthusiasm will bring out her excitement and enthusiasm and will trickle down to the guests she invites.
Even though this is an online party, send her a catalog and maybe a sample or two. This will allow her to showcase the products when she is out and about during the dates of the event.
Make sure she has her party link and knows how to text it to people. Coach her through adding or keeping it in a place on her phone that can easily be accessed.
Help her set a goal for her party on how much in free products she would like to earn. Go ahead and ask her to start making her wish list of free products based on that goal.
Tips from your fellow Jordies!
Have your host send personal messages to all her guests via Messenger on the last shopping day of the party to thank them for coming and remind them to order!
Message script to use.
Hello (insert name)
Happy Weekend! I want to Thank you for being part of my online
Jordan Essentials party. It means a lot to have you as part of the fun!
I know life gets crazy sometimes but don't worry, you can still place orders and I'd love help or answer any questions!
Door prize will be given away on Monday!
To make finding things easier for you, here's my shopping link:
Insert link to shop
Here's my party link if you'd like to scroll the posts:
Thanks so much!
X sign your host's name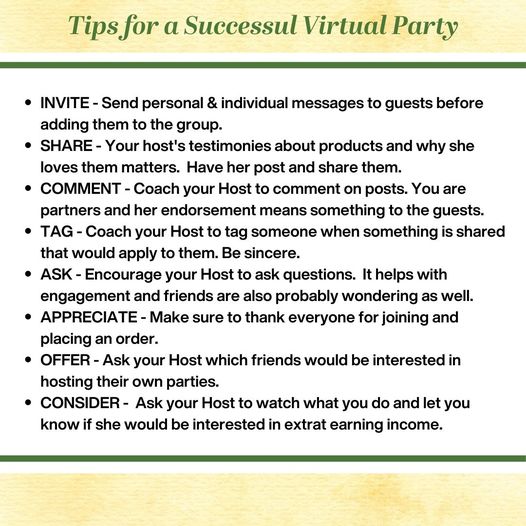 Step 3 – Host Coaching Continued & Inviting Guests
Set the expectation with your host that she will personally invite guests by sending either a text message, FB message or personal phone call.
Invitation Script for Your Host to message and personally invite.
Hey there! Have you heard of Jordan Essentials? I've been really enjoying their natural, nontoxic products lately, especially things like their magnesium lotion and my favorite_____________. Both are pretty incredible!
I've decided to host an ONLINE event and I'd love for you to join us! Just let me know with a quick YES, and I'll be happy to share all the details with you. You can learn about the products, shop, and ask questions at your convenience while the party is open. Hope to see you in the group!
When they reply YES, add them to our group and message them the group link with this message:
Awesome! I will add you. Here's the link to our group with all the details: (Insert Group Link) Make plans to join us online in the group on ______ at ____.
Day 1 – Post 1: Your Introduction and Connecting to Guests through Messenger
********TRAINING FOR CONSULTANTS*************
We have a few housekeeping tips before we get started. Anything that is in italics… do not post in your posts. These are training messages for you. You should plan and schedule your posts throughout the day. Make sure that you have created your party link before making this post. Your dates and times will be different so make sure that you plan ahead and have the correct dates and times. The picture that goes along with this post should be your own. You can create one in Canva or take a pic of yourself with the products. SHOW A LITTLE PERSONALITY AND FUN! Whatever it is make sure it is your own and speaks to your personality.
All Posts from Day 1 should be posted as guests are being invited and added to the group. Adding guests to an empty group is no good. These posts will give them something to engage with while your host is sending personal invitations.
As new members are added, it's your turn as the consultant to introduce yourself and begin to develop trust and a relationship with them. A personal message via Facebook Messenger is HIGHLY encouraged.
Hi_______________! I'm _________________ with Jordan Essentials! I'm working with your friend ___________ this week in her online event! It's nice to meet you and I'm glad you joined the party. I am available to answer any questions you have. Feel free to message me. Please let me know how I can help you. I look forward to getting to know you more throughout the party.
Bonus Tip: It's great to include the direct link to your Facebook Messenger here. You can even offer tickets for everyone who clicks the link and says "Hello" to you via messenger.
Your Facebook messenger address begins with M.ME/the last part of your facebook profile. If your Facebook profile link is https://www.facebook.com/bethjordanje by messenger address will be m.me/bethjordanje
Day 1 – Post 2
(Posts will include earning tickets for a drawing. This is to encourage engagement. Prizes do not have to be big. If you choose not to do tickets simply omit these statements from your posts.)
Welcome to our Jordan Party with Nancy and Thanks for Joining!
Whether you've known about Jordan Essentials for a long time or just heard of us, we have some amazing things to show you this week. From Fun Face Care made with natural, beneficial ingredients to help give you a glowing and radiant complexion to essential Magnesium enhanced products that give you a natural alternative for pain relief, you won't want to miss a day this week!
Dates To Remember:
Party/(Post Start and End Date)
Party Closes (Post Closing Date)
You can shop from Nancy's party at any time: (insert link)
Perks and Benefits!
$5 Customer Specials when you spend $50!
½ Price Item when you Book and Host Your Own Party!
Drawings throughout the party!
You have all earned 1 ticket just for joining the Group!
Questions or need help? You can always send me a private message via messenger, tag me in a comment or text me at XXX-XXX-XXXX.
(CREATE YOUR OWN IMAGE)
Day 1 – Post 3
Here is what you can expect this week. Fun, friends, and fabulous products. You can learn how to enjoy a fresh Jordan Essential experience that not only makes you feel better from the outside in but leaves you with healthy, glowing skin. Welcome to the party!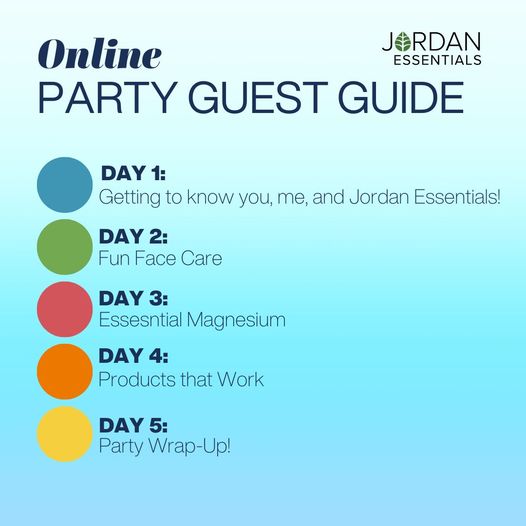 Day 1 Post 4
Let's get to know each other a little bit. How familiar are you with Jordan Essentials products? This will help me make this truly a personalized experience for you. LIKE, LOVE, or WOW your response.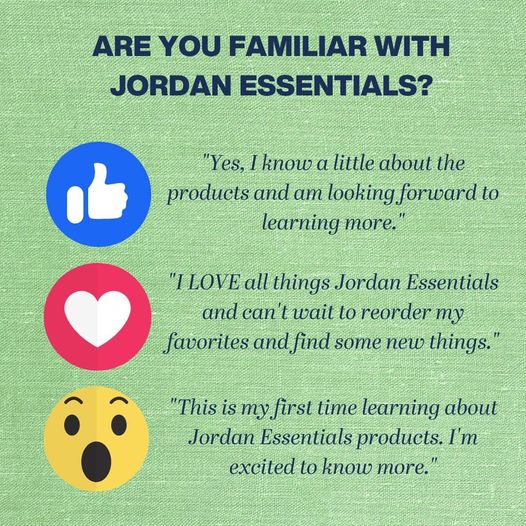 Day 1 – Post 5
Nancy is an advocate and friend. She was a busy stay-at-home mom who started pioneering products in her kitchen to make money for her family when her children were little. She oversees all of the formulas and is a friend to families nationwide for skin care and income solutions. She is busy today overlooking product formulas in the made-in-the-heartland manufacturing with essential ingredients you can trust. She gives a customizable option that is flexible with your life to become a Jordie too and share the goodness of Jordan Essentials with others. Nancy helps make us unique!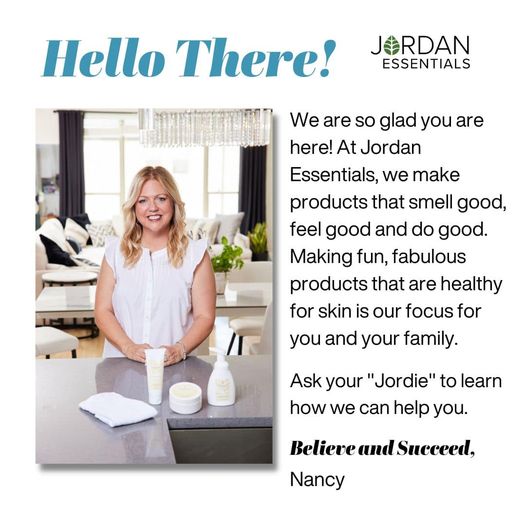 Day 1 – Post 6
What products are you most interested in learning about? I would love to suggest products for your specific needs.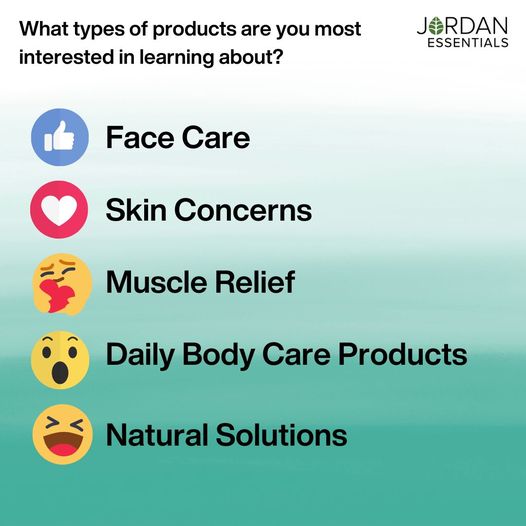 Day 1 – Post 7
Jordan Essentials proudly chose the name from the Jordan River. As this holy river runs through a fertile valley to the Dead Sea, it gathers beneficial minerals from soil known to relieve, replenish, and refresh.
Inspired by these made miraculous healing powers, we knew our mission was to create products made with fresh skincare ingredients carefully selected and lovingly blended in fresh batches in the heartland of America.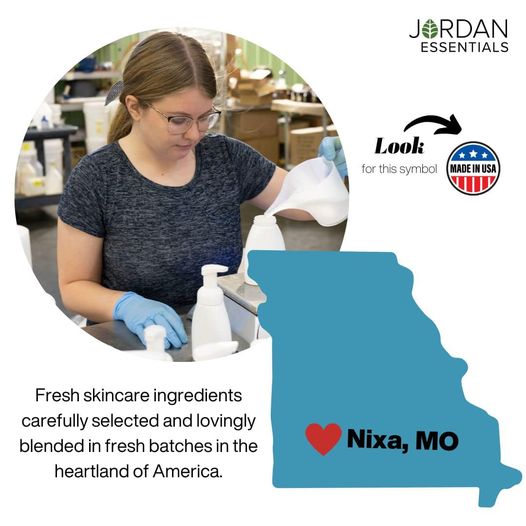 Day 1 – Post 8
For over 20 years, we have been making products that feel great, smell great, and work great! They never contain potentially harmful ingredients, so you can feel confident they are safe for you and your family. Each product undergoes strict quality control and never sits for long on a shelf.
Once carefully selected ingredients like Magnesium, Shea Butter, Aloe, and Essential Oils arrive, they are blended into unique products, then lovingly packaged, placed in a box and shipped to your door. Now that is fresh!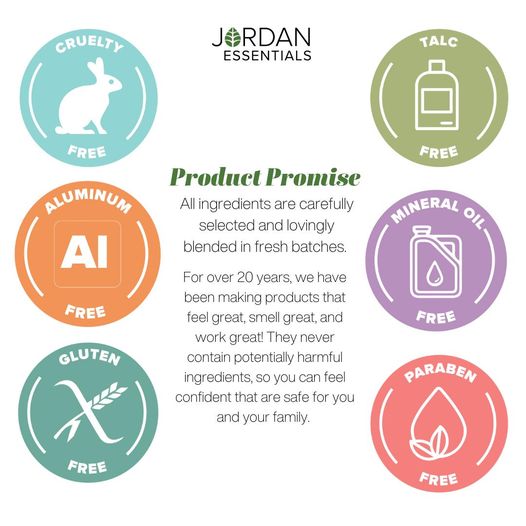 Day 1 – Post 9
Let's have some fun as we get this party started! Comment with your Fall Name!
10 Tickets for a Comment!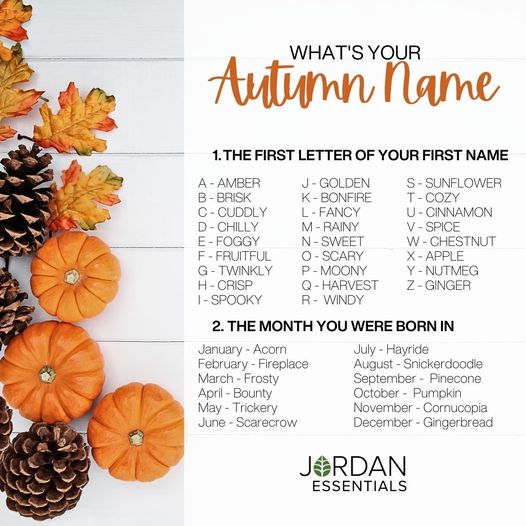 Day 1: Post 10
Are you a page-turner?! If you are like me you LOVE to flip through a catalog. Here is a link to our digital catalog that you can flip through. bit.ly/JE2023FallWinter.
Remember you can shop at any time through Nancy's party link (insert link).
I will be sharing a lot of usage tips, product benefits, and of course my favorites over the next three days.
Feel free to ask me any questions. You can direct message me or text me a XXX-XXX-XXXX!