THANK YOU POSTS
As each guest places an order throughout the virtual party, thank them publically in the group. This encourages other guests to place their orders.
You can use an image like this or create your own!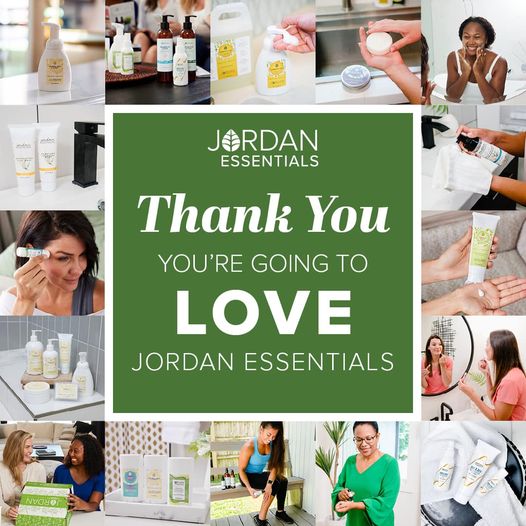 Booking Post
This post should be used as you see the hostess rewards climbing, toward the end of the party. It encourages orders to be submitted as well as shows guests how much a host can earn.
Congratulations Nancy…so far you have earned $60 in FREE product credit, FREE shipping, 2 half-price items, and a $5 monthly host special! This month it's our XXXXXXXX a XX value.
I have these dates available on my calendar. When you book and hold a qualified party you will receive a half-price item as a booking bonus in addition to the rewards your earn from your party total.
PLUS…Book a party with me and 25 tickets go into our party drawing.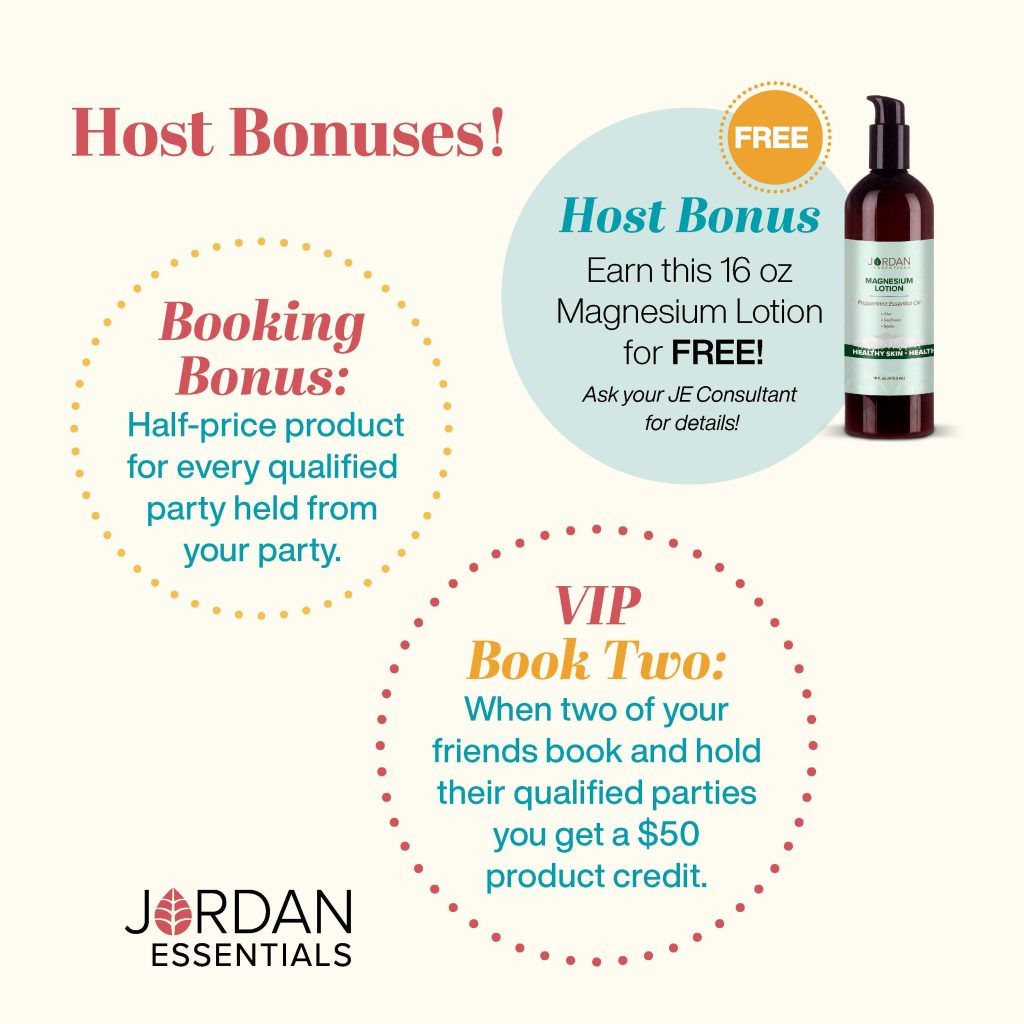 VIP Group Post
Invite guests to join your VIP group and send you a friend request. This post can be done at any point in the party.
Earn 10 Extra Tickets into our prize drawing with you join my VIP GROUP. Comment JOINED when you are done.
(insert VIP group link)
Earn 10 More Tickets will be added to your name when you send me a friend request.
(insert profile link)
Opportunity and Your Testimonial Post
Talk about the Opportunity and Share the Join Special
Have you watched what I have been doing? I love being a part of Jordan Essentials because…..
I would love to show you how you can too! Message me to set up a time to chat.
(But don't just leave it at that. After each person places an order, follow up with them via text message or phone call. Ask them if they have ever thought about it or if they know someone who maybe interested. It's perfectly ok to ask for referrals.)
Party Poll Post
What product was most intriguing to you this week?
Drop that below with your letter of where you're at right now!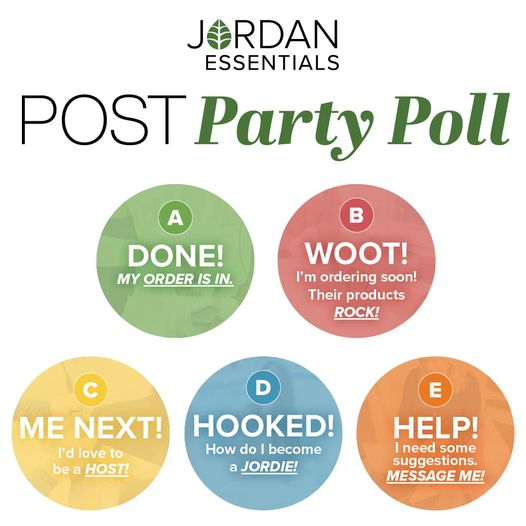 Last Post
*************Training for Consultant*************
Woooo…You made it!!! This is the last post. Make sure to end it with your party link and the last day to order so that you can close your party and submit it.
*************Training for Consultant*************
The last day to order through this party link is (enter your closing date)
The fun doesn't stop here! Come on over and join my VIP Community to stay up to date on special deals and learn even more about each of our products so you can use them to their fullest potential.
Our group is a place to share your stories, ask any question you like, enter my giveaways and learn something new!
(insert party link)
ANNOUNCE YOUR DRAWING WINNERS. Post them in the group and direct message them.